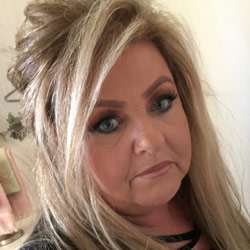 Paula Garofalo
Stylist / Owner
Her passion and love for the beauty industry and people is what lead Paula to open up her own salon in 2007. Paula has been a professional stylist for over 25 years and is constantly perfecting her skills with ongoing education and training both in-salon and out.
She is certified and proficient in all aspects of the hair industry including cutting, coloring, styling, retexturizing, upstyling, and hair extensions. Her clients' smiles are what drives her to be her very best.
Annalisa Paciocco
Stylist / Makeup Artist / Manager
Annalisa is a graduate of The Paul Mitchell School in Garden City. She has been a stylist and self taught makeup artist since 2011 and continues to actively learn new trends and styles. She specializes in ombres and freehanded color techniques.
Annalisa loves connecting with her clients on a personal level while making them look and feel good about themselves. Her profession never gets old and she looks forward to new things every day.
Tiffany Ludyny
Receptionist / Stylist
Tiffany graduated from Long Island Beauty School in 2005, following her mom's passion as a hairstylist. She has always been an artistic person which draws her to the artistry of hair. Tiffany loves making her clients look and feel beautiful. Her passion for this industry is what makes her continue her education and learn new techniques.
When Tiffany is not working, she also puts her artistic abilities into her love of cake designing and photography.